If one sentence could sum it up this would be it……
All I will mention is to direct your viewing to the "YO" from is NEW and dear friend 208stroker …and I'll leave it at that….Hmmmmmmmmm ?
From what I'm to gather the 66 yr old decaying shambling flip flop and false Christian Jew blatantly and for no apparent reason removes all of his mods and goes as far as to ban some of them for protesting his abrupt actions. For those not yet familiar this is typical of Hippers and his odd mental meltdowns that abrupt from his explosive anus every so often. Don't worry next week he'll have a new set of mods that will cuddle up to him, but in the mean time………………………
Is it possible some of the ex mods that actually took the time to watch his dribble have become upset and now leave him messages in the IM ???
Towards the end he has a go at a person he refers to as "Packer"…..Hipperz is extremely crossed with this individual.
And of course what would a Hipperz cast be without his typical rant and whine over ………..ME………..Monkeysniffer.
I love how he BLAMES me for his woes and troublesome life it's as though I've held a gun up to his head and forced him to create his own miserable world of torment, he refers to me as a "trouble maker" (lol) so consistent with a weak person who remains in denial over their own negative illegal actions. He blames ME for his DOX getting out there but then decides to forget it was HE that placed his own name and information online for the world to view…DUUUHHHHHHHHHHH
And of course let's not forget how he's wished DEATH upon me or prayed to GOD for my demise it's really something. I mean really Hipperz I'll let you in on a secret …..
IF YOU OR ANYONE EVER DOXED ME I'M AFRAID YOU WOULD BE SORELY DISAPPOINTED TO NO END…I HAVE NO CRIMINAL RECORD, NOTHING NOR ANYONE TO FEAR, UNLIKE YOU AND SO MANY OTHERS WHO LIVE WITH A DARK SECRET……….. GOOD LUCK.
So in the mean time please enjoy this image I created……….just……….for…………you.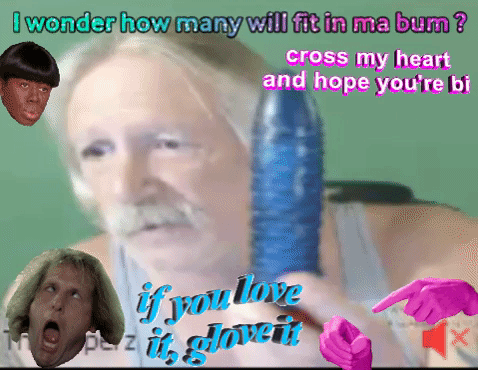 Hipperz why do you have a blue dildo in your hand ????
And a special thank you to the person who sent in the video.